Premium Scotland Hardwood Bark Mulch
Our premium rich dark brown bark mulch consists of nearly 100% hardwood bark from our trees. Our bark mulch allows for great weed control and helps with retaining moisture for optimal soil health. Bark mulch provides the best nutrient value for the ground because it breaks down naturally adding beneficial humus to your soil.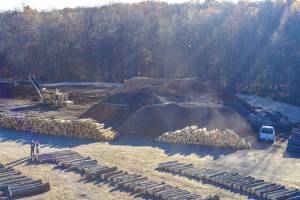 Scotland Hardwood premium "in house made" bark mulch is made and processed using only the highest, natural quality lumbar. Our bark mulch product is double ground processed to help ensure the quality of our product. Choose from red oak, white oak, maple, birch and ash blends.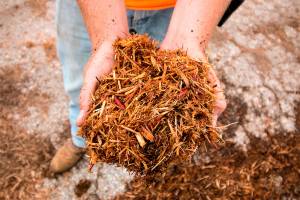 Our premium bark mulch  helps create a healthy weed-free environment for your plants to grow in. It lays flatter & locks together to regulate ground temperatures & 20% moisture retention.  Bark mulch provides the best nutrient value for the ground as it breaks down naturally to add humus to your soil.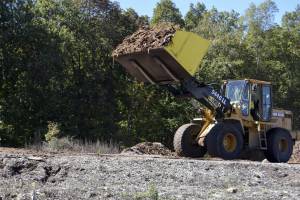 Before laying your bark mulch be sure to get rid of weeds & grass in your mulching area. To control moisture & prevent weeds use 3″ of mulch. Avoid smothering your plants by leaving some space between the mulch & the plant steam. Lastly, place small piles of mulch throughout mulching area & then raking it to spread evenly.
How Often Should I Mulch My Garden?
Bark mulch fully decays within 1-2 years which leaves behind a more robust organic soil. To maintain the beauty of your garden we recommend laying new bark mulch once a year. Remember to keep a 3″ layer of mulch to prevent weed growth & insulate plants & shrubs. Weather permitting bark mulch can be laid  any time of year. Many people prefer to mulch in the fall so that spring annuals can grow without being disturbed.
How Much Mulch Should I Buy?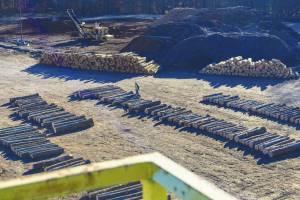 As an industry standard one cubic yard of bark mulch will canvas a mulching area measuring about 100 square feet.
As previously stated, it is recommended that there be a 3 inch layer of bark mulch to control weed growth and improve overall plant health. For those that are adding a top layer dressing to an area that already has bark mulch you may wish to use a little less.
How To Measure For Your Bark Mulch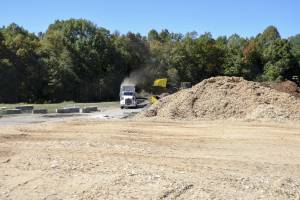 To figure out how much bark mulch is needed for your project start by measuring the length & width of the area to be mulched. Multiply the length X the width to get the number of sq ft to be covered. For example, if your garden bed is 200 ft long & 20 ft wide multiply the length (200 ft) X the width (20 ft) to get a total surface area to cover of 4,000 sq ft. Next, divide your total surface area to cover (4,000 sq ft) by 100 to get the total amount of cubic yards needed for your project.
Quality Lumber. Delivered to you.
Contact us today about your project. Our team is standing by to fulfill your order.